2019 Kenneth Brogger "Polycentric Baroque Arch" SP/IN
| | |
| --- | --- |
| Year | 2019 |
| Top | Spruce |
| Back & Sides | Indian Rosewood |
| Scale Length | 650 mm |
| Nut width | 52 mm |
| Finish | French Polish |
| Country | Denmark |
| Luthier | Kenneth Brögger |
This guitar is no longer available in our inventory. If it interests you, click the "notify me when available button" to be notified in the event that we re-acquire this guitar for re-sale.
Description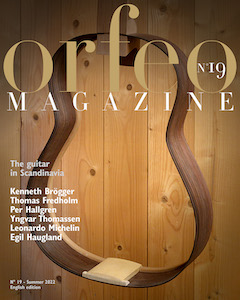 This is our first "Polycentric Baroque Arch" model from Kenneth Brogger. The main "thrust" behind this instrument was to discover a new head shape that had the proportional balance of the great heads from the past and yet is a fresh, new design at the same time. Kenneth thoroughly researched the history of guitar making to better understand the limits of what can and has been done with proportions and dimensions of head shapes that yet retain an elegant and graceful shape. After contemplating all the options he could find and after a good deal of trial and error, this head design was his answer. To round it out, Kenneth added an ebony inlay in the rosewood head (no relief), and how beautifully it complements the fingerboard and the machine buttons. However, this new model is not ONLY about the head shape! Indeed the plantilla of the body has been re-designed to both accommodate the appearance of the head and also to explore new acoustic properties hitherto undiscovered. By comparison to Brogger's standard models, the new shape is a bit more rounded and compact, as with many of the best instruments from Torres and the great instruments from the early 20th century (Manuel Ramirez, Santos, Esteso, Garcia, etc). The success of this design lies in its quality of sound and responsiveness - it is enormously powerful due to the way it has been braced and domed with a sound that is explosive, yet refined at the same time, with a silky quality in the trebles and fat richness in the basses. We congratulate Kenneth on this effort - both the design and the execution to his same uncompromising, perfect standard. Materials chosen for this guitar are absolutely beautiful as always. Overall, an aesthetic masterpiece. The sound is quite complex - it is warm yet clear, with a beautiful, lyrical quality in the treble that is found in older instruments, for which Kenneth has great fondness. Basses are full and round. Overall, a very satisfying and beautiful tone across all registers.
The story behind this model.
Videos
Guitars by Kenneth Brögger