Born in Hellerup, north of Copenhagen, Kenneth Brögger is Denmark's leading classical guitar builder of his generation. His career began when he apprenticed with noted Danish guitar maker Yngve Barslev from 1972 to 1975. To supplement his training during this period, he made several research trips to the mother country of guitars, Spain. On one of those trips to Andalusia, he studied French polishing techniques with Antonio Marin of Granada. In 1975 he set up his first workshop at Skovgardsvej 8 in Birkerod. In the following years (1976 to 1977), Brögger worked as a volunteer at The Museum of Music History & Carl Claudius' Collection in Copenhagen, measuring and cataloguing parts of the museum's collection of antique guitars. This experience was pivotal in that it opened up a great window into the historical development of guitar building which greatly affected Brögger's personal style in the building of his own instruments. A brief apprenticeship in 1977 at the Phil Parker Ltd. instrument workshop in London, England was followed by a return to his own shop, which was moved to Ravnsnaesvej 12, in Birkerod, where he remains to this day – at least for part of the year. In 2015 he set up a second workshop in Mallorca, Spain. Brögger is also one among the accomplished and fortunate luthiers to have attended the famous masterclasses given by José Romanillos.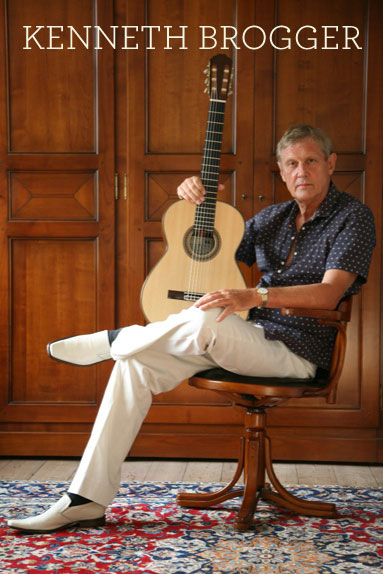 Throughout the years, Brögger's guitars have been displayed at many important Danish events. In 1975 he was able to exhibit two of his classical guitars at Charlottenborg Palace, in Copenhagen. In 1986, he organized the exhibition "A Guitar is Made" at the Museum of Music History. Also in 1997, he exhibited a lute at the Museum of Industrial Design in Copenhagen, and a selection of his own guitars at Rudolf Rasmussens Snedkerier, Copenhagen.
In 1997, Brögger became a member of "Danske Kunsthandvaerkere" (Danish Artisans) and that year received the Kunsthandvaerkerprisen at 1879 (The Applied Arts Prize of 1879) and a silver Hetsch Medal, the highest award in the field. At this ceremony, Brögger had the honor of being recognized by the Queen of Denmark, Margrethe the Second.
Brögger's unique style is a blend of many influences. His rosette is suggestive of Enrique Garcia, Francisco Simplicio and Ignacio Fleta. The headstock shape is akin to the great makers in the Manuel Ramirez workshop (Santos Hernandez, Domingo Esteso). Over the years, Brögger himself has owned several fine instruments (including a wonderful Antonio de Torres, Simplicio, and Ignacio Fleta, among others) and these have influenced his own work. Although his primary influences come largely from the traditional masters of Spain, there is a quality to his own instruments which is quite personal and unique. The guitars are lightweight yet sturdy and very easy to play. They have fast response and great balance up and down the neck. Tone is exceptionally clear and penetrating with very controlled overtones. In addition to his standard model, he has designed a fascinating and unique model based on some ornately inlayed Stradivarius violins, which he aptly calls his "Stradivari model". He has also built very faithful replicas of several different Torres, as well as a Bouchet.
Brögger is also a prolific writer — he has contributed articles on guitar connoisseurship to newspapers, trade magazines and other periodicals. He has also written two books, the first published in 1990, "Klassisk guitarbygning" ("Classical Guitar Making") which is a step-by-step method book showing in great photographic detail the guitar building process. The book covers all aspects of the traditional Spanish method, from the bracing of the soundboard to the creation of the rosette. His second book, "Danish Guitars – and their makers" was published in 2001 and provides a comprehensive and lavish photographic history of Danish guitar makers, cataloguing 98 guitars built in Denmark from 1777 to the present.
Musicians playing Brögger guitars include Kaare Norge, Fareed Haque (with Joe Zawinul of Weather Report), Simon Harder, Mikkel Nordso, Paul Halberg and Lars Hannibal (with Michala Petri), among others.
Given Kenneth Brögger's impressive workmanship, background, and recognition he has received, it is not surprising his work has become highly sought after. We here at GSI are therefore proud to represent his instruments as his exclusive US dealer.