2018 Rafael Moreno Rodriguez SP/CSAR
| | |
| --- | --- |
| Year | 2018 |
| Top | Spruce |
| Back & Sides | CSA Rosewood |
| Scale Length | 650 mm |
| Nut width | 52 mm |
| Finish | French Polish |
| Country | Spain |
| Condition | Excellent |
| Exchange | ExchangePlus |
| Luthier | Rafael Moreno Rodriguez |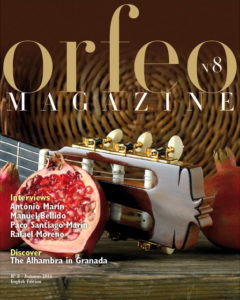 This guitar has a beautiful back with a narrow piece of ebony inserted between two pieces of stunning and aged CSA rosewood. Also in ebony are the bindings, foot inlay and head veneer (headstock is shaped after the pomegranate fruit - a tribute to the city of "Granada" which is actually the Spanish word for "pomegranate") which frames the guitar beautifully - the design and quality of materials make this an absolutely stunning guitar in appearance. Although a classical guitar, it's also fitted with mechanical "pegs" (that look old-school but tune easily like normal machines) in black that also give the guitar a very cool look. The interior of the guitar reveals Moreno Rodriguez' standard lighter 6-strut system but with a twist - the fanning of the struts is "reversed" (so that they become wider as they approach the soundhole, radiating away from the foot). This is a system that Pepe Romero Jr. has been doing exclusively since 2009 (although he does it with 7 fans) after coming into the possession of a rare
1970 Miguel Rodriguez
guitar with this very system employed. To our ears, this seems to assist in making the top of this guitar more responsive and looser, yet with more clarity and focus to each note. Volume is also excellent without being boomy and a thick, dark sound is achieved in all registers - most remarkably in the trebles. Features a 20th fret for the high c natural required in some of the guitar repertoire. This is an exceptional concert guitar in this price range and we recommend it highly both for its concert-worthy sound and refined, unique workmanship and aesthetics.
Orfeo Magazine #8 - The Granada School
Unrelated to Miguel Rodriguez of Cordoba, Granada-based builder
Rafael Moreno Rodriguez
is one of the top contemporary makers from Andalucia. Several top players in Spain perform with these guitars, most noticeably Vicente Coves, Gerardo Nuñez, Juan & Pepe Habichuela, and Enrique Morente among others.
Videos