Find Your Dream Guitar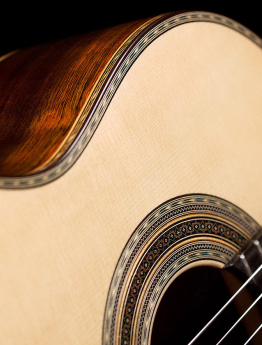 Explore our Guitar Store
In our store we feature instruments crafted only by the very best guitar luthiers, who we believe build guitars to last - both in terms of musical quality and investment.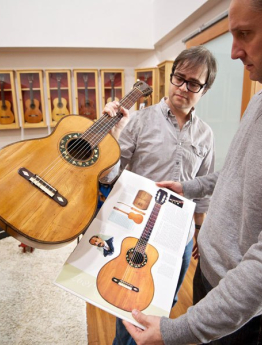 Get inspired
Here you'll find a collection of guitars previously featured at GSI. Sometimes guitars from the museum make their way back to our store. Be notified of their return via our notification system!
Live Auctions
We've created an exciting and alternative way for you to acquire a great guitar.
Live
2022 Tobias Berg CD/WN
Another exceptional guitar from Tobias Berg. Materials are gorgeous including a stunning set of very..
Auction ends December 11, 2023
Time left:
User
Bid
Date
Gill*********leur
$9,000.00

Winning

December 7, 2023 3:37 pm
Ron******on
$8,700.00

Outbid

December 7, 2023 7:27 am
Bo****r
$8,200.00

Outbid

December 5, 2023 12:40 pm
View details

Try Any Guitar With No Purchase Commitment
It is simple: You can choose a guitar from the GSI stock, and we'll ship it to you anywhere in the world for a trial period and approval.
Trial period lasts 48 hour. Learn more about our 48-Hour Approval Policy
Featured Articles, Upcoming Events, Best Guitarists and more!
Top stories you may have missed at GSI
What are our customers saying?
Purchased a Daniel Friederich classical guitar. Patrick was helpful and made it a smooth transaction.
Best place in California for high end classical guitars. I came in on a Saturday and John-Paul took the time to show me all the best guitars they had. No pressure at all and I walked out with a 1966 Conde Hermanos Guitar. Amazing place. You will not be disappointed.
GSI is the Greatest! They are very nice, knowledgeable, patent and helpful, in making sure you get the right guitar for you and your liking. Highly recommended. 6 stars out of 5
They are really quick to reply and seem helpful. I've never had a purchase from there yet though. But I've enjoyed watching some of their videos.
Outstanding guitar shop. Salesmen are very nice guys, they're knowledgeable about their products and they don't upsell. The selection is excellent, and overall this is just a very clean, professional environment.
Buying a guitar from Guitar Salon International was a wonderful experience. I also sold them a guitar a couple of years ago and that was super easy also. I had the pleasure of working with David Collett. I live on the east coast so had to do everything on the phone. David took the time (lots of time) to talk me through the process and help me make the right decision. I felt perfectly at ease ordering my guitar and having it shipped. I have to add also that my Wolfgang Jellinghaus "Torres 77" is a fabulous magical little guitar. It has literally changed my world. Due to a broken left arm and a dislocated pinkie finger my larger guitar equaled pain. This small powerhouse of a guitar has made playing pleasurable again, and it is so beautiful. In just a few days she has opened up and is singing. Guitar Salon International is in the business of helping musicians first, then selling guitars!
Outstanding guitar shop. Salesmen are very nice guys, they're knowledgeable about their products and they don't upsell. The selection is excellent, and overall this is just a very clean, professional environment.
GSI is an excellent store! I bought a vintage classical guitar from them, and it was a great experience! Their staff talked to me at length and patiently answered my many questions. The process of trying and buying the guitar was very easy and low-stress. I would definitely buy from this store again. They also have a killer YouTube channel!
Great selection of guitars, knowledgeable staff.
I made the pilgrimage here to watch David Russell teach. Thank you to GSI and all those who helped organized the event in your wonderful venue.
I just wanted to leave a comment about Patrick Schettler, who helped me select and buy a guitar Saturday February 12. Patrick was great. He went above and beyond what was necessary for me to have a positive experience. Patrick was great to talk to and I learned a lot from him about each guitar I tried out. He was very patient as I played several guitars (over a period of more than three hours), and asked to see others I had on my list. He also played some of them for me to help me narrow them down, so I could hear them from an audience perspective. He was friendly and professional. Always available, but didn't hover. I give him five stars. Thanks, and best regards,
Simply awesome, client service and guitars.. Highly recommended…
If you live in Southern CA and are looking for a place to purchase a serious classical/flamenco guitar then you MUST visit Guitar Salon International. The selection of beautiful vintage/modern guitars is amazing but more important is the service, knowledge and expertise of its employees. From start to finish you are dealing with GUITARISTS and not salespeople so their opinions will definitely matter and help you make an informed purchase. I had many great conversations with John Paul but the person most responsible for my overall purchase and satisfaction was Andy Lee. Andy is the consummate professional and was patient, accommodating and helped facilitate a great purchase. I ended up with a 1977 Ramirez 1A and extremely happy and content that I worked with Andy & GSI on this purchase. I will DEFINITELY be back for my next purchase and highly recommend that you consider GSI for your serious guitar purchase. Thanks JohnPaul, Andy and the entire team for a memorable experience
This was my first visit to GSI and I was extremely happy with the trip. Andrew was great in assisting me with information about each of the instruments that interested me and I hope to return soon!
This place is like the e-harmony of luthier built guitars. They're not in the business of selling guitars, but creating matches made in heaven. That's absolutely how the staff make you feel. They are extremely helpful, and extremely patient throughout the entire journey of finding you the best instrument for your needs. I had the pleasure of working Andrew, and ended up purchased the best guitar I've ever played in my life. I look forward to being a lifelong customer.
been after a 640 scale guitar and between inventory out there, price, accessibility, I was not finding what I wanted or could afford. Custom builds for this are either out of my range or simply inferior results based on past experiences. When I came across the LA CAÑADA on GSI I was very curious. Having read up on the FE17's original history it peaked my interest. There were very few sound samples/videos online about these and the ones on GSI were duets of 2 woods, and an interview leaving little to the ear to make any proper assessment. Youtube had a few videos showing off these guitars and they seems to sound quite nice. So I reached out to JP at GSI who kindly recorded sound samples of both the Maple and Granadillo backs and there were two models available one being an "A" for antiqued look the other for reg/new look. The Antiqued pics looked real nice, especially coming from playing a very high end and beautiful luthier made sitka spruce/brazilian rosewood made nearly
GSI is an ABSOLUTE joy to deal with. I've been a customer of theirs since starting my journey in to playing classical guitar back in 2003. Mr JohnPaul Trotter and the rest of their staff are the pinnacle of customer service and professionalism. They set the standard in the classical guitar buying world. I recently received a STELLAR Jose Ramirez 1A that John found for me. I still can't believe I have it. The entire experience as of late is everything you'll ever want or need. Save yourself any amount of heartache and don't go anywhere else... Thanks again GSI! Customer for life!
Specialised guitar store for classical and flamenco guitar enthusiasts, with a friendly and helpful staff. Got myself a hand made student flamenco guitar at a reasonable price. I'd definitely go back there in the future to browse through their stock for more guitars!!!
I finally found a guitar that matches my needs both in tonal quality and value. Guitar Salon has outstanding customer service and selection. I was able to review guitars and on the second guitar with the help of Andrew (who listened to me and my fickled needs), I found a gem. I now own a Wolfgang Jellinghaus Flamenca Negra a guitar with amazing crispness, bold projection and sound quality. I have tried for years locally to find a guitar with professional tambre and projection with no success. Save yourself time, frustration and energy and view an amazing selection of instruments. Many have high quality videos of the guitars being played by professional musicians, very helpful. Also there are many resources available to learn from and to inspire you. Thank you Andrew and all at Guitar Salon International!
If you have a true passion for guitars, this is truly the place to be. I have come to know GSI over the years as this is my regular stop for strings and studio guitars for my students. A few weeks ago, I decided to upgrade my guitar and John Paul and Andrew carefully listened to my needs. They understood how important playability and tone are to me and helped me with finding the perfect instrument. Thanks to their expertise regarding tone, wood types, guitar makers, and strings, along with their wide selection of incredible instruments from some of the best luthiers, choosing my new instrument was a fun and simple process. They encouraged me to play guitars in different rooms including their big show room to make sure I was replicating a concert experience. Not only was I able to play various instruments, JohnPaul and Andrew (both excellent players) also played the guitars for me so that I could hear how the instruments sounded from the audience's perspective. My satisfacti
Classical & Flamenco Guitars
Guitar Salon International, in business since 1983, has become the world-renowned dealer
and center for classical & flamenco guitarists and collectors.