Ethan Boyers Records Music By Vassiliev, Bach, Piazzolla, Bonfa, and Villa-Lobos.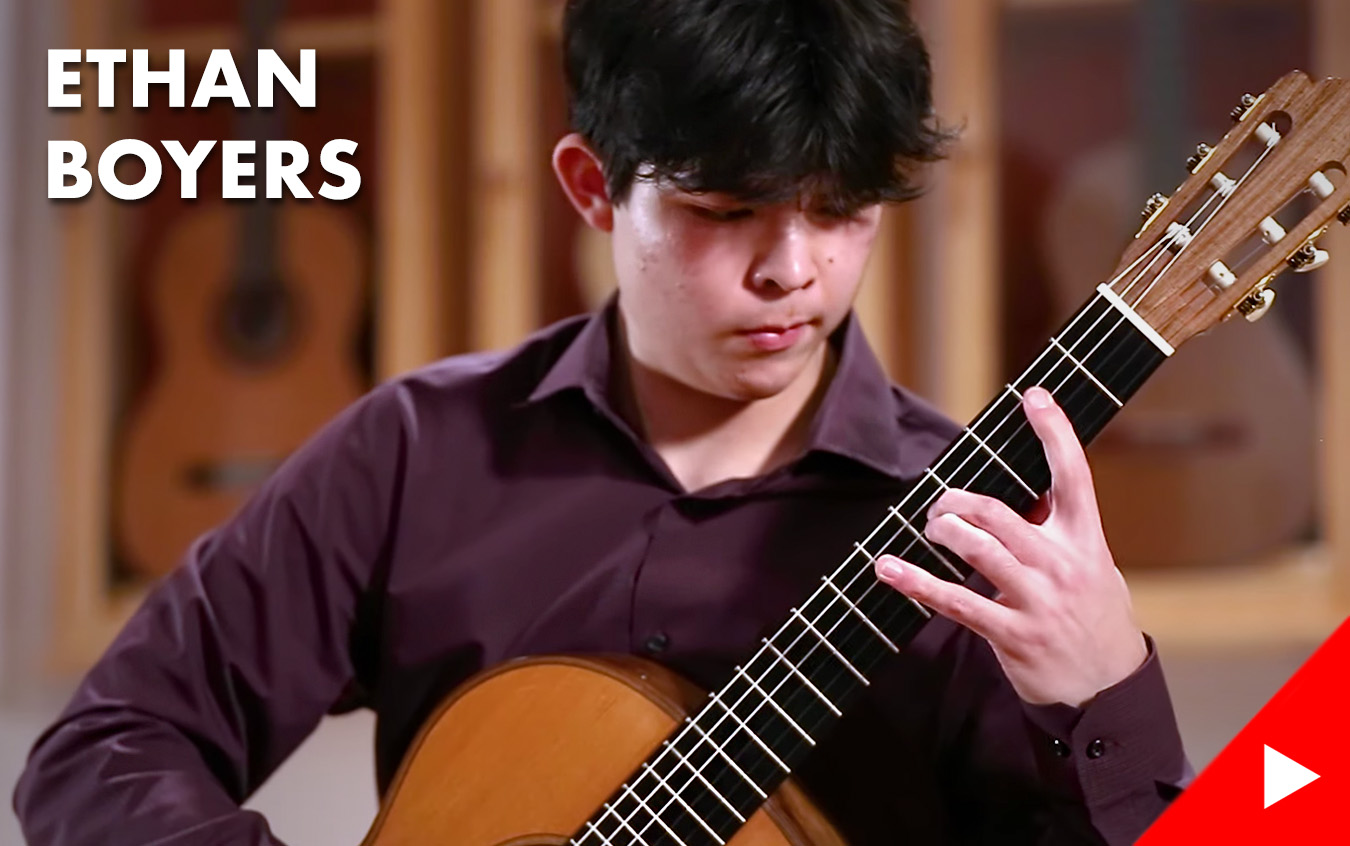 Ethan Boyers is just 17, yet his classical guitar skills could be compared to that of many professional classical guitarists. Ethan studies at Sonoma Academy in Santa Rosa, California, and is currently taking lessons with Scott Cmiel at the pre-college division of the San Francisco Conservatory of Music.
Ethan is a very active student who performs in chamber ensembles, jazz bands, and theatre productions. Last fall, he was the Music Director for A Midsummer Night's Dream at his school.
In recent years, Ethan received the 3rd prize at the 2021 James Stroud Classical Guitar Competition and the 2nd prize at the GFA IYC Senior division.
While at GSI, Ethan recorded five videos on five different guitars. His recording session started with "Alba" by Konstantin Vassiliev. For this recording, Ethan chose a 2022 Stefan Nitschke "Hauser" SP/CSAR. This is a phenomenal guitar that was also featured in our videos recorded on location and in collaboration with D'Addario strings.
For his second piece, Ethan performed Sérgio Assad's arrangement of "Otoño Porteño" by Astor Piazzolla. In this performance, you can hear Ethan playing on a 2022 Vicente Carrillo "Primera Especial" CD/AR - Although this guitar has the full richness and dark character of cedar, it also has great balance and clarity normally found in spruce. Ethan's interpretation of "Otoño Porteño" is full of energy, rhythmical precision, and sound clarity.
Next, Ethan recorded the "Fuga" from the "Lute Suite in C Minor, BWV 997" by Johann Sebastian Bach. Ethan decided to record this piece on a 2004 Edmund Blöchinger SP/CSAR. This is a pristine example of a great Blochinger. It sounds wonderful both in recordings and on stage. The quality of the tone is outstanding!
The last two videos from this recording session feature Brazilian music. First, Ethan recorded Luiz Bonfá's "Passeio No Rio". Bonfá was one of the originators of Brazilian bossa nova. Ethan performed this piece on an Italian guitar - 2017 Ennio Giovanetti SP/CSAR. Even though Bonfá is mostly associated with Brazil, he was the son of an Italian immigrant. The sound of this guitar is as strong as its appearance - the sturdy, bold basses are matched by the rich and thick trebles.
Ethan finished his recording session with the recording of "Prelude No. 5" by Heitor Villa-Lobos. He chose quite an interesting guitar for this piece, a 2022 Vicente Carrillo "Maestro Double Top" SP/SP/MP. It's a double-top model which was designed under the supervision of Gernot Wagner - one of the founders of the double-top school.
Check out Ethan's videos below!
Leave a Comment