Grygorii Koval - The Newest Recipient of the GSI Foundation Classical Guitar Scholarship Records at GSI!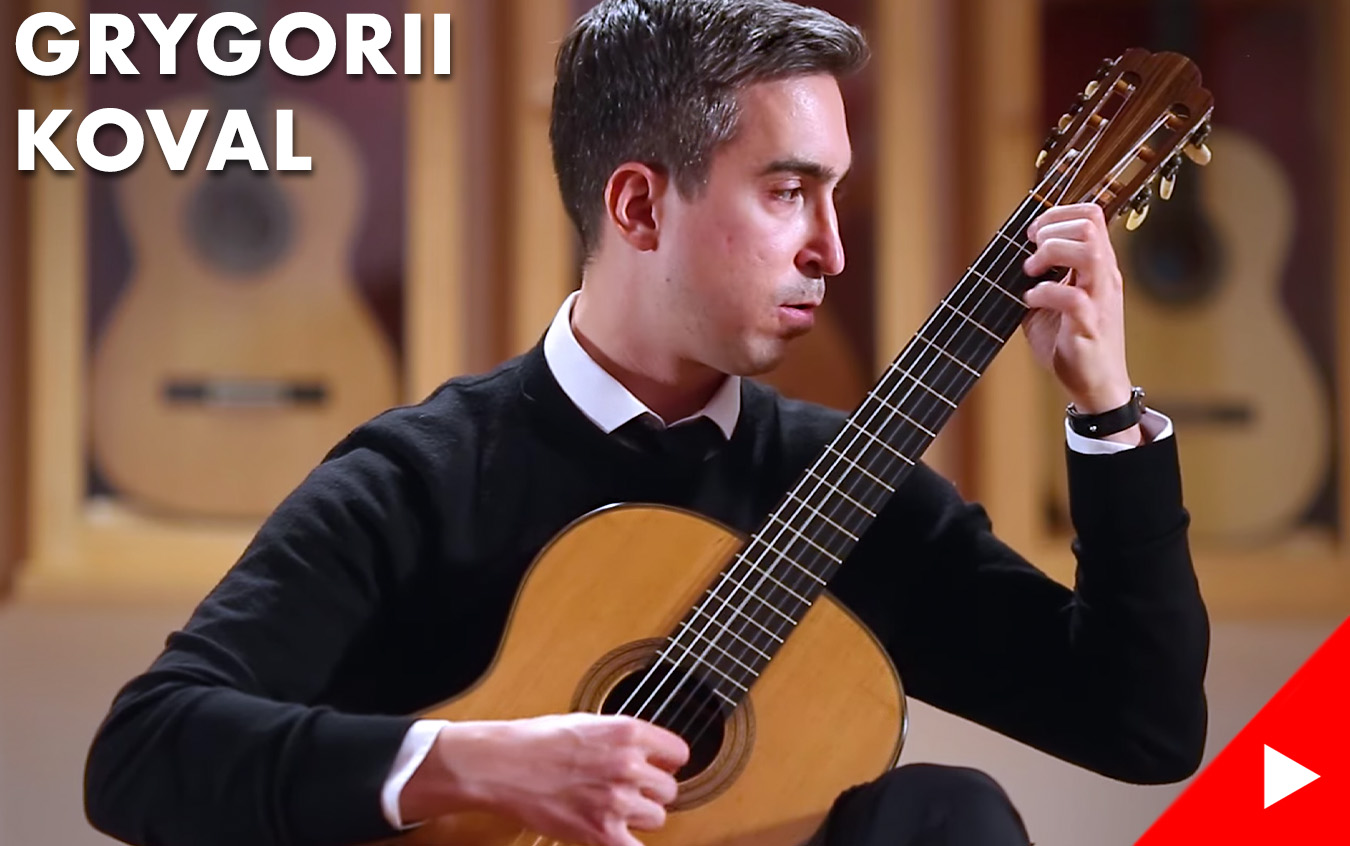 We're very proud to share with you seven new videos recorded by Grygorii Koval who is one of the recipients of the GSI Foundation Classical Guitar Scholarship for doctoral students. Grygorii is from Vinnytsia, Ukraine, but he lived for many years in Switzerland, where he studied at the Zurich University of Arts and the Lugano Conservatoire. In Lugano, he studied with famous Italian guitarist, Lorenzo Micheli. Currently, Grygorii is pursuing his doctorate degree at the University of Southern California in the class of William Kanengiser.
Many of you might already know Grygorii not only as the GSI Foundation scholar but also as the person who recently organized with GSI a fundraiser for Ukrainian guitar students in his hometown, Vinnytsia (read more).
While at GSI, Grygorii recorded music by J. S. Bach, Niccolò Paganini, Manuel de Falla, Miguel Llobet, and Sofia Gubaidulina. As the first piece, Grygorii performed Miguel Llobet's "Romanza" on an 1897 Jose Ramirez I SP/CY from the Russell Cleveland collection. This guitar has a truly old-world sound. It's actually the type of sound that Miguel Llobet could have heard during his youth, as he was only 19 when Jose Ramirez I built this instrument.
Next, Grygorii recorded three different Sonatas (No. 33, 36 & 37) by Italian composer, Niccolò Paganini. Grygorii used the same guitar for these three performances - 1971 Jose Oribe "Calidad Suprema" CD/CSAR previously owned by Angel Romero. This has been Angel's concert instrument for many years, as the wear in the finish attests. It has a big, deep, and rich tone with huge volume.
After this detour toward Italian repertoire, Grygorii played another Spanish piece, "Homenaje, Le Tombeau de Claude Debussy" by Manuel de Falla. The guitar used in this video, a 2005 Fritz Ober SP/CSAR, is beautiful. Not only the materials used are first-quality, but the sound is also superb with great clarity, power, and a natural woody tone.
In the next video, Grygorii recorded "Serenade" by Sofia Gubaidulina who is considered to be one of the top Russian composers of the second half of the 20th century. For this piece, Grygorii chose a 2021 Pavel Gavryushov CD/AR guitar. The sound of this guitar is at once firm and refined, clean and stable yet also open and charming, with a full, rich sound with a hearty amount of lush overtones supporting every note across the entire register.
As the final piece, Grygorii played Johann Sebastian Bach's "Suite in G Minor, BWV 995: Gavotte I & II" on a 1951 Hermann Hauser I SP/CSAR previously owned by John DeRose. This instrument had only one owner prior to being featured in our store. It's a truly iconic guitar as it was built just one year before Hauser I's passing. It has a beautiful, quite complex, and extremely expressive tone.
Check out Grygorii's videos below!
Leave a Comment