Player Spotlight: Alexander Milovanov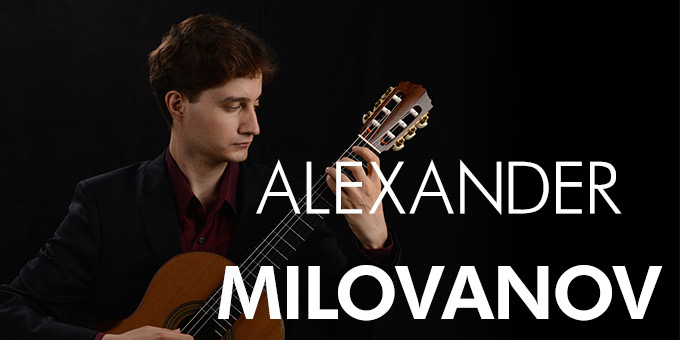 Alexander Milovanov is one of the most prominent and exciting classical guitarists of the new generation. He has often been cited as an extraordinary artist who captures the attention of an audience with his powerful insight and dazzling virtuosic technique.
Alexander has performed solo recitals internationally and in major centers throughout the United States, including New York, Los Angeles, Atlanta and Baltimore. In addition, he has appeared as the guest artist on many prestigious concert series such as the Kean Concert Artists and the Bedford Chamber Concerts, performing with the members of the Orpheus Chamber Orchestra under the direction of Anthony Newman.
Alexander has received top prizes in important guitar competitions, including the preeminent International Concert Artist Competition of the Guitar Foundation of America and the Boston GuitarFest International Competition.
Originally from Belarus, Alexander Milovanov received his Bachelor of Music from the Glinka State College of Music, majoring in guitar performance, orchestral conducting and music education. After moving to the U.S., Mr. Milovanov attended the Peabody Institute of the Johns Hopkins University in Baltimore, Maryland. There he received his Master of Music, studying with Ray Chester, Manuel Barrueco and Julian Gray. In 2008, Alexander received a full scholarship to the Aspen Music Festival and School to work with Grammy Award winner Ms. Sharon Isbin.
In 2010-2011, Mr. Milovanov served on the faculty at the International School of Music in Washington D.C. As a full scholarship and a fellowship recipient, Alexander completed the Artist Diploma at the Yale University School of Music in 2013, under the direction of Benjamin Verdery. Currently, Alexander is pursuing his Doctor of Musical Arts degree at the University of Texas at Austin, under the direction of Adam Holzman.
Alexander Milovanov is a U.S. citizen since 2010.
ALEXANDER MILOVANOV GUITAR DEMOS

(view all)
Leave a Comment