After university studies in art history, Bertrand Ligier went on to study woodworking and specifically the art of cabinet-making. This included apprentice work in the south of France and in Spain. During this period he learned the traditional techniques of wood handcrafting and restoration of fine old furniture. His real introduction to the classical guitar was as a performance student, but after several years of playing his interest gradually shifted towards the structure of the instrument itself and the Lutherie behind it. Bertrand built his first instruments while simultaneously working in cabinetmaking, so he was able to combine his growing knowledge of woodworking directly to the craft of guitar making.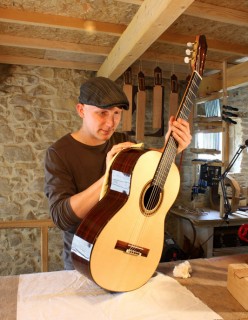 Thanks to being able to play the guitar himself and to having access to other musicians in his community, he has regular feedback on his guitars, which has continued to allow him to develop and improve all details, including acoustic/tonal qualities and even the decorative aesthetics. Bertrand feels strongly that his ability to play the guitar has been a strong asset in seeking out the best acoustic potential of his instruments, in the constant search to build a better guitar, instrument by instrument. He has also had the opportunity and good fortune to meet and exchange ideas with several other luthiers, and has drawn great inspiration from their work. He has studied and detailed many instruments built by the great 20th century European masters to understand how they were able to reach such high degrees of overall beauty and harmony of construction. Bertrand is always striving to continue developing his craft and to pursue his own unique style while at the same time being rooted in the heritage of the past, which he admires and respects greatly.
He works in a village near the cities of Nîmes, Uzès and Avignon in the south of France. Curiously, he works in a building that in former times was used to grow silkworms, and he has renovated it entirely himself into a beautiful guitar-making workshop.