2020 Bertrand Ligier SP/CSAR
| | |
| --- | --- |
| Year | 2020 |
| Top | Spruce |
| Back & Sides | CSA Rosewood |
| Scale Length | 650 mm |
| Nut width | 52 mm |
| Finish | French Polish |
| Country | France |
| Luthier | Bertrand Ligier |
This guitar is no longer available in our inventory. If it interests you, click the "notify me when available button" to be notified in the event that we re-acquire this guitar for re-sale.
Description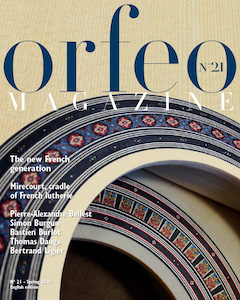 This guitar was built by the extremely talented luthier Bertrand Ligier, who builds guitars in the Languedoc region of Southern France. We're very pleased to be working with this fine maker and this is an impressive concert-level guitar in every regard. As with each new guitar we receive from him, this instrument features his latest body design, based on the accumulation of many years of constant research. In the never-ending quest to improve his work, Bertrand has once again made slight modifications to give it more aesthetic balance. The proportions of his headstock design and purflings have been adjusted accordingly as well. The tie block design at the bridge is inspired by Simplicio - a very charming, yet subtle homage to one of his influences. Although 'new' in many ways, this is still clearly in the style of the French school - austere and complex, yet understated.
Soundwise, Bertrand's quest is to maximally increase the acoustic capabilities of his instruments while maintaining a beautiful quality of sound. This guitar is the first (to us) where Bertrand has left the French mounting technique for the Spanish method in an effort to to improve the relationship between the neck and body - particulary the soundboard. It was a difficult technical decision for him because it required changing several details of his building process, including the creation of new moulds. But Bertrand became convinced of these improvements and since late 2019, he has built 4 guitars with his new approach, each of them re-affirming his decision - these newest guitars are more balanced with strong and lyrical basses and an especially improved first string. The sound remains as classy as before but with perhaps a bit more old-world charm. The bracing of the top has five bars and an asymmetrical bar under the rosette. As with his previous instruments, this one also has double sides - the inside of this guitar being of spruce which Bertrand chose for it's lightweight quality and because it was often used for back and sides during the Romantic period (for example in instruments of Rene Lacote). This makes the body stiffer yet still lightweight, which in turn helps direct more vibration to the soundboard. This improves projection (particularly in concert settings), and improves the depth and sturdiness of the basses, as well as more rounded and focused trebles.
Ligier has not only become recognized for his great quality of sound, but also for his remarkable woodworking skills. The amazing attention to detail found in his inlay work is second-to-none, rivaling the top, most skilled woodworkers in the trade. His intricate and perfectly executed rosette designs have become a hallmark of his work. His pore-filling and French polish work have a mirror-like, perfectly consistent sheen over the entirety of the instrument. This is a maker with a great sense of style combined with a virtuosity in the delivery. Materials are also first-rate, this one built with a beautiful spruce soundboard from the Italian Alps (Val di Fiemme), and a stunning set of aged CSA rosewood for the back and sides that he obtained from Dominique Field's private stock. Tuners are Alessi H1 with ebony buttons. And it sounds as good as it looks - it has precise balance, and supreme clarity between voices with a sophisticated voice - very pronounced fundamental and highly controlled overtones. Overall an incredibly satisfying instrument all counts, and we recommend his guitars to players of any level, from the advanced student to accomplished professionals.
Photos of this guitar taken just after completion.
Videos
Guitars by Bertrand Ligier