2017 Bertrand Ligier SP/CSAR
| | |
| --- | --- |
| Year | 2017 |
| Top | Spruce |
| Back & Sides | CSA Rosewood |
| Scale Length | 650 mm |
| Nut width | 52 mm |
| Finish | French Polish |
| Country | France |
| Luthier | Bertrand Ligier |
This guitar is no longer available in our inventory. If it interests you, click the "notify me when available button" to be notified in the event that we re-acquire this guitar for re-sale.
Description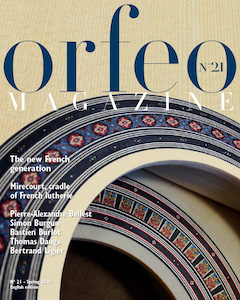 This beautiful guitar features Bertrand's newest body design based on several years of research. After having studied several master guitars over the years, Bertrand focused on three makers in particular whom he has admired greatly and inspired this design: Paul Fischer, David Rubio, and Francisco Simplicio. Of course, "inspired by" as the plantilla may be suggestive of these makers, it is unique to Ligier. The bracing of the top is also new with seven bars and for this top in particular, to maximize the flexibility, it is also fitted with a crossed bar under the bridge. As with his previous instruments, this one also has double sides (the interior layer being normally of cypress, but for this guitar, mahogany), making the body stiffer, which in turn helps direct more vibration to the soundboard. This improves projection (particularly in concert settings), and improves the depth and sturdiness of the basses, as well as more rounded and focused trebles. Most interestingly, the guitar body is built separately from the neck. These two parts are assembled at the end of the process, a method known as "French mounting". The resulting sound is beautifully lyrical, loose and open, even for a new spruce instrument.
Ligier is not only becoming recognized for his great quality of sound, but for his remarkable woodworking skills. The amazing attention to detail found in his inlay work is second-to-none, rivaling the top veterans of the trade. His intricate and perfectly executed rosette designs are becoming a hallmark of his work. His pore-filling and French polish work have a mirror-like, perfectly consistent sheen over the entirety of the instrument. This is a maker with a great sense of style combined with a virtuosity in the delivery. Materials are also first-rate, this one built with a stunning set of aged CSA rosewood for the back and sides. And it sounds as good as it looks - it has precise balance, and supreme clarity between voices with a sophisticated voice - very pronounced fundamental and highly controlled overtones. Overall an incredibly satisfying instrument on all counts.
Photos of this guitar taken during construction.
Guitars by Bertrand Ligier