2022 Dominique Field SP/CSAR
| | |
| --- | --- |
| Year | 2022 |
| Top | Spruce |
| Back & Sides | CSA Rosewood |
| Scale Length | 650 mm |
| Nut width | 52 mm |
| Finish | French Polish |
| Country | France |
| Condition | New |
| Exchange | ExchangePlus |
| Luthier | Dominique Field |

Monthly payment plans available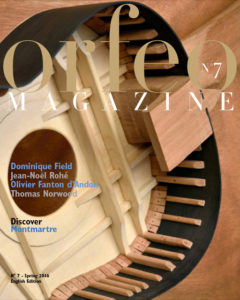 In our opinion, this instrument re-confirms Field's status as one of the elite makers in the world today. This instrument is meticulously built with a level of detail found in only a handful of other top makers. His French polish has an almost mirror-like quality to it, and it's simply remarkable just how clean the detailing and woodworking of his instruments are. Over many years of development, he has implemented his own unique bracing system for the back and sides which distributes the tension to the sides (the sides also having 30 small vertical bars per side), and subsequently to the soundboard, resulting in increased clarity, punch and dynamic expression. Thus without "doubling" the sides, he is able to achieve a similar result of stiffening the box - indeed his system secures the sides very firmly to the back which itself has 6 bars - 2 lengthwise and 4 transverse. The sound is very rarified and at the same time, extremely powerful. The tonal color palette is huge on this guitar and the dynamic range second to none. Aesthetically it is extremely refined in an understated way - from the shape of the plantilla, to the head carving to the intricate and elegant rosette. Materials selected for this particular guitar include an aged spruce top selected from Daniel Friederich's stock, acquired in 1971 by Friederich and 2015 by Field, after Friederich's retirement. Back and sides are CSA rosewood that Field received from Robert Bouchet in the 1980s. Overall a world-class instrument in every regard.
Orfeo Magazine #7 - French School Luthiery
Photos of this guitar taken during final phase of construction.

Dominique Field is now the leading builder in the French school of guitar making (and arguably one of the top in the world) that has its origins in Paris in the 19th century with Pons and Pons Aîné who were the teachers/mentors of Rene-Francois Lacote - France's first superstar in guitar making. Spaniard Julian Gomez Ramirez settled in Paris and became active c. 1910, deeply influencing Robert Bouchet, who initially played on a Gomez Ramirez guitar before becoming a luthier himself. Robert Bouchet of course would have a profound influence on Daniel Friederich and Dominique Field, setting the standard for the modern French guitar in the 20th century and beyond. Field's guitars have been played by numerous top guitarists including (to name but just a few!) Vladimir Mikulka, Ivan Rijos, Eduardo Isaac, Adam Holzman, Scott Tennant, Vicente Amigo, Adam Levin and Raphael Feuillatre. Several others including Judicael Perroy and Hubert Kaeppel are on Field's list, awaiting instruments.