1927 Francisco Simplicio SP/MH
| | |
| --- | --- |
| Year | 1927 |
| Top | Spruce |
| Back & Sides | Mahogany |
| Scale Length | 650 mm |
| Nut width | 51 mm |
| Finish | French Polish |
| Country | Spain |
| Luthier | Francisco Simplicio |
Description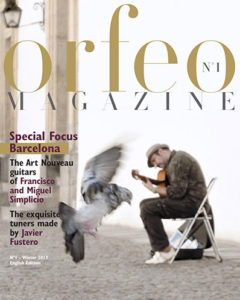 Francisco Simplicio, the sole pupil and successor of Enrique Garcia, was known not only for the beautiful tone of his instruments, but also for his exquisite workmanship and use of extravagant ornamentation. The ornate purfling and rosette detailing are immediately recognizable features of this maker's work. He is also known for the heavily and beautifully engraved headstocks. This guitar we offer here is a fine example of this maker at his best.
This is Simplicio's most deluxe model, and features a high degree of breathtaking decoration including golden highlights in the carved ebony head, gold engraved German machines with mother of pearly oval buttons, and multiple layers of purfling (including rope inlays in the back and side purflings, and mosaics in the top purfling) - all very tastefully and exquisitely done. The famous 'sound' of Simplicio is perhaps the most unique of the great makers of the twentieth century - it has a very "old-world" charm, and players of these guitars often remark how they are transported psychologically to another world when playing a Simplicio. The sound of this Simplicio is particularly magnificent - great depth to every note up the entire register with a big bottom-end and lyrical trebles. This effect is enhanced due to its being fitted with a "tornavoz" - a conical tube attached to the soundhole, which adds a sonic boom to the bottom end and gives the trebles a brilliant clarity. Normally these are made of brass, but Simplico often used wood, as in this case - mahogany.
The guitar is in almost perfect condition - with only a small amount of playing wear, there is only one repaired top crack. But the nut, saddle and frets are still original, as is the French polish on the entire instrument. Some of the original shellac is still visible on the fingerboard, a popular option in Simplicio's era. In addition to the beautiful and ornate carving and inlaywork, the materials are striking - most notably it is built from a set of gorgeous quilted mahogany for the back and sides. Overall, a highly desirable guitar from this famous builder.
Orfeo article on Simplicio
Videos
Guitars by Francisco Simplicio