2009 Pepe Romero RW/MP
| | |
| --- | --- |
| Year | 2009 |
| Top | Redwood |
| Back & Sides | Maple |
| Scale Length | 660 mm |
| Nut width | 54 mm |
| Finish | French Polish |
| Country | USA |
| Luthier | Pepe Romero Jr. |
This guitar is no longer available in our inventory. If it interests you, click the "notify me when available button" to be notified in the event that we re-acquire this guitar for re-sale.
Description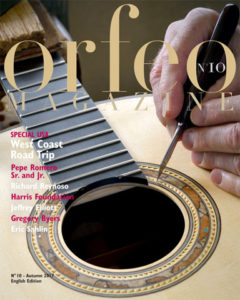 Made by the son of the great guitarist of the same name - this is one of the "0" guitars (#160) that until now has been a part of the Romero family collection - indeed the label bears a dedication to Pepe Sr. It has huge volume and extremely quick response - although the tone is "classical", the response and playability is much like a southern Spanish flamenco guitar. Although a slightly larger size, the instrument is very lightly built, reminiscent of the legendary guitars that were built in the Miguel Rodriguez workshop. Indeed Pepe Jr. admits that elements of both Rodriguez and Santos Hernandez are strongly present in his work, fused with his own particular style and concept of sound. The appearance of this guitar is quite bold, mainly due to the materials used for its construction. The soundboard is "sinker redwood" which was sliced from a huge old-growth redwood log reclaimed from the depths of Northern California river, where it had lain for likely more than a century. The top displays a rich spectrum of variegation, the result of colors uniquely imparted from silt and the mineral-rich water yielding a tight grain with nice cross-grain stiffness, giving the guitar a bold response, with a brilliance complemented by warm overtones similar to cedar. The guitar was braced similar to a 5 fan (with treble bar) Miguel Rodriguez system that Pepe used for many years. The Italian maple used for the back and sides came from Eddie Blochinger's stock when he was teaching Pepe about re-sawing wood and they spent a couple weeks cutting spruce, maple and rosewood together. Playability is very easy with a smooth neck and large, rounded frets. The sound is thick and warm, yet very pure and separated, with great punch and immediate attack. Built in 2009, it is in excellent condition with only minor signs of use.
Orfeo Magazine No. 10 - West Coast Luthiers
Videos
Guitars by Pepe Romero Jr.