2018 Pepe Romero "Negra" CD/IR
| | |
| --- | --- |
| Year | 2018 |
| Top | Cedar |
| Back & Sides | Indonesian Rosewood |
| Scale Length | 650 mm |
| Nut width | 52 mm |
| Finish | French Polish |
| Country | USA |
| Luthier | Pepe Romero Jr. |
This guitar is no longer available in our inventory. If it interests you, click the "notify me when available button" to be notified in the event that we re-acquire this guitar for re-sale.
Description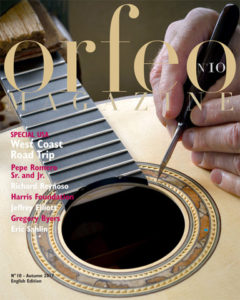 This is the same model as the
2012 guitar
sold to Paco de Lucia, used for part of his final album "Canción andaluza", recorded just prior to his untimely passing in 2014. Upon receiving his, Paco said that he felt enchanted by the guitar. He loved the round sound, thought that it felt great in his hands and tuned great.
And we agree. Additionally, it has the huge volume and extremely quick response famously found in the great Andalucian flamencos - particularly of Miguel Rodriguez. Since his 170th instrument, Pepe has adopted a reverse fan system (fans radiating from the bridge area, rather than from the soundhole) for his standard model after studying an early 1970's Rodriguez with this very system. Pepe feels this opens the instrument up, and gives it a unique distinctive quality of sound that appeals greatly to his sense of style. The instrument is very lightly built as was common with most mid-century flamencos. Playability is very easy with a smooth neck and large, rounded frets. The sound is thick and warm, yet very pure and separated, which is exceptional for a cedar top negra like this. One interesting detail is the use of a brass nut, which also adds an extra helping of clarity and brightness to the sound. Materials for this guitar are top-notch including a gorgeous set of Indonesian rosewood. Overall a great instrument by every standard.
Orfeo Magazine No. 10 - West Coast Luthiers
Videos
Guitars by Pepe Romero Jr.