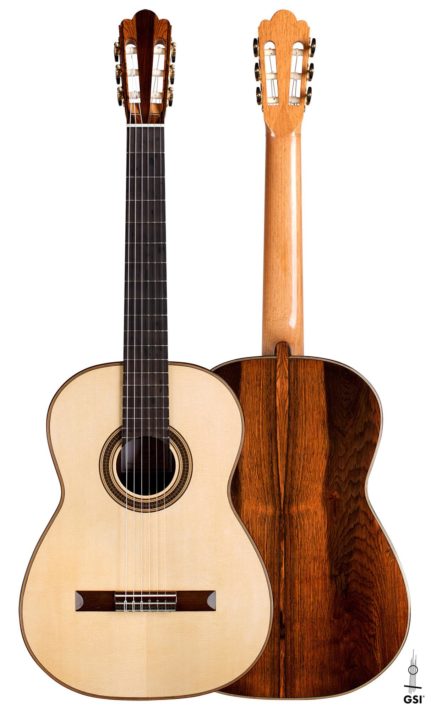 2019 Narongsak Visesnut SP/CSAR
on hold - SKU: GUCLVIS-07479
Specifications
Year

2019
Top

Spruce
Back & Sides

CSA Rosewood
Scale Length

650 mm
Nut width

52 mm
Finish

French Polish
Country

Thailand
Condition

Excellent
Exchange

ExchangePlus
Background
Born in Bangkok, Thailand, Narongsak Visesnut started playing classical guitar as a teenager at a Yamaha classical guitar course in 1974 and remained an avid hobbyist for many years while completing degrees in accounting and finance, as well as an MBA. He eventually established his own business, Natakit Industry Co., Ltd. in 1990, which does injection molding and mold making, primarily for companies in the automotive, electrical and computer hardware industries. This company has also allowed him to produce a line of high-quality guitar cases that have become a top-quality brand in recent years.
Thanks to the rise of the internet in the early 2000's, he discovered online companies who supplied wood sets for classical guitar construction as well as a host of books on how to build guitars. He quickly became enamored with the idea of building a guitar and bought his first set of wood and a handful of these "how to" books. He built his first guitar from scratch with limited tools and his 1980 Masaru Kohno guitar No. 30 as a reference. Before this first guitar was completed, he consulted Bangkok luthier Wiroon Songbandit on varnishing techniques, and upon completion of his first guitar, was very satisfied with its sound. Inspired by this experience, he apprenticed with Wiroon for the duration of building his second and the third guitars. Over the next decade, he was able to participate in courses with Yuich Imai in Japan, Jose Romanillos in Spain, Kazuo Sato in Germany and Paul Fischer in England. Additionally, he attended the Guild of American Luthiers convention several times in Washington where he befriended many luthiers. He has also participated in several guitar making competitions, most notably he won 1st Prize at the International Guitar Festival and Competition in Magnitogorsk, Russia in 2010, and was recently a finalist in the Antonio Marin Montero guitar making competition in Granada, Spain in 2019.
Description
Our good friend Narongsak Visesnut has become a household name in recent years for his fantastic hardshell guitar cases which have become extremely popular. His passion for the classical guitar also has driven him to build guitars...