2020 Pepe Romero "Blanca" w/pegs SP/CY
| | |
| --- | --- |
| Year | 2020 |
| Top | Spruce |
| Back & Sides | Cypress |
| Scale Length | 650 mm |
| Nut width | 52 mm |
| Finish | French Polish |
| Country | USA |
| Luthier | Pepe Romero Jr. |
This guitar is no longer available in our inventory. If it interests you, click the "notify me when available button" to be notified in the event that we re-acquire this guitar for re-sale.
Description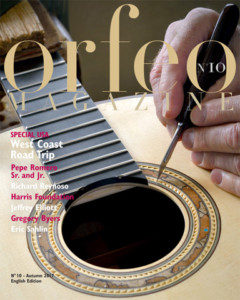 Made by the son of the great guitarist of the same name. This flamenco blanca has huge volume and extremely quick response, much in the style of the lightweight Spanish flamencos of the first half of the twentieth century. Pepe achieves this with his very unique bracing system which he calls the "Romero bracing", which he has been using for quite awhile in his ukuleles and guitars, although he feels it best suits his flamencos. In particular there is a cypress Santos Hernandez that Pepe once restored and fell in love with that he feels this bracing system approaches for tonal quality in his instruments. Instead of using individual "fan" braces for the soundboard, he uses a single, thin, circular shaped piece of spruce that covers a large area under the soundboard. It is about .9mm at its thickest and .3mm at its thinnest. This "skin" bracing eliminates the stiffer and looser areas that result from normal fan bracing, evening out the vibration across the entire soundboard. It is glued in on an arched work board to hold the desired doming, and from a practical standpoint also improves structural stability as well. Pepe does something similar with the back, but laminates an entire piece of rosewood to the cypress that has a regular thickness of .6mm throughout. Pepe notes that this construction allows the entire body to vibrate more, improving sustain and clarity across all registers. This particular guitar (#325) is dedicated to Antonio Aparicio on the label, and uses a set of cypress for the back and the sides that came from Aparicio's stock. Pepe has written a note under the top that reads "In loving memory of my friend Antonio Aparicio. This cypress set was his. I built this in his honor". Additionally it is fitted with "machined" Planetary Pegs for that old-school look and feel but with ease of tuning. Pepe's guitars are played by a score of professionals including members of his family but it is especially worth mentioning that Paco de Lucia used a 2012 Pepe Romero guitar for part of his final album "Canción Andaluza", recorded just prior to his untimely passing in 2014. Upon receiving his, Paco said that he felt enchanted by the guitar. He loved the round sound, thought that it felt great in his hands and tuned great. Although a "used" guitar, this instrument is in like-new condition with virtually no signs of prior use.
Guitars by Pepe Romero Jr.