All Three of Francisco Tarrega's Antonio de Torres Guitars in the GSI Showroom!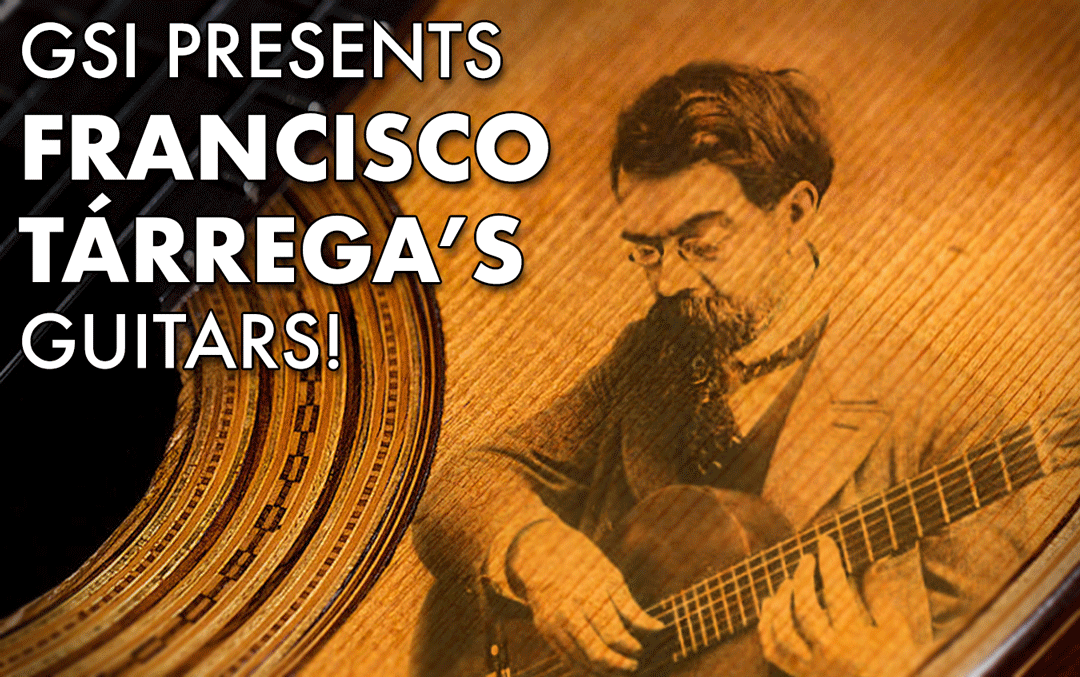 GSI is very proud to announce that all three Antonio de Torres guitars previously owned by Francisco Tárrega made their way to the GSI showroom. We're extremely thankful for all the support we've been receiving to make this historical moment happen. We're very honored to have these guitars here at GSI. With all these three guitars in our showroom, we believe that it is our responsibility to demonstrate and showcase these legendary instruments in detail to the larger classical guitar audience. On this occasion, we've prepared a series of videos recorded on these three guitars, a special commission with a world premiere of Andrew York's new composition, "Portrait of Tarrega", and have dedicated product pages with high-quality photos and detailed descriptions.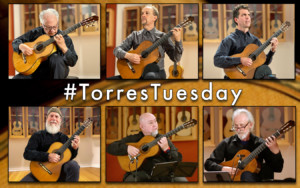 #TorresTuesday is our weekly premiere on the GSI YouTube channel of recordings made by some of the world's top classical guitarists – Pepe Romero, Andrew York, and LAGQ: William Kanengiser, Scott Tennant, Matthew Greif, and John Dearman. We are going to be publishing one video per week. Make sure to tune in and be the first one to watch them! Help us spread the word about them on Social Media with #TorresTuesday.
The first video is already published. Click on the link to read more and to watch all published performances. In the article about #TorresTuesday you'll also find some sneak peek photos from the video shoots.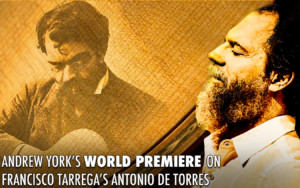 Our next project involves GRAMMY-winning classical guitarist and composer, Andrew York. We contacted him and asked him if he'd like to accept a commission to write a piece based on themes of Tárrega, and he accepted! We organized a fundraiser to commission Andrew to compose this piece, "Portrait of Tarrega", and to help raise funds for the GSI Foundation – our non-profit organization whose main aim is to support music education programs in public schools in the Los Angeles area. Please visit our fundraising page if you'd like to help. There are some great perks in return for our supporters! The last day to donate is this Friday. And of course, don't forget to tune in to the World Premiere!
FRANCISCO TARREGA'S ANTONIO DE TORRES GUITARS
---
This instrument, built in 1864 and numbered "FE 17" in the Jose Romanillos catalog, was originally made by Torres for himself (who was also a very good player). Five years after building this guitar, Torres would allow a young, seventeen-year-old Francisco Tárrega to have the guitar, after being smitten by the young man's talent as an up-and-coming future star, which of course would be fulfilled in Tárrega's lifetime, leaving a legacy that remains to the present day. The instrument is not only sonically beautiful, but it has also become an inspiration for countless luthiers over the past century for its elegant and timeless design. Special thanks to Jonathan Kellerman for generously allowing this guitar to be reunited with the other two Torres guitars of Tárrega.
---
This instrument numbered #49 from Torres' "Second epoch" was the 2nd of 3 Torres guitars that Tárrega owned. After his death in 1909, "SE 49" would be the last of the 3 Torres guitars to be sold by his family, in 1944. According to Jose Romanillos, it seems likely that this guitar was intended to be a fresh replacement of Tárrega''s first Torres. Like "FE 17", this guitar was also built with flamed maple for the sides and four-piece back and is decorated with some of the same inlay materials in the rosette and top purfling. But "SE 49" is a slightly larger instrument than "FE 17" and was not originally fitted with a tornavoz. "SE 49" also has some other surprising details, perhaps most notably the addition of "fish" MOP inlays in the wings of the bridge.
---
This instrument was the 3rd of 3 Torres guitars that Tárrega would own in his lifetime. It has been famously captured in a photograph of Tárrega playing guitar. This guitar has been famously captured by a historic photograph (now available as a poster by SONETO) that is very familiar to many guitar aficionados. In 2000 it was sold to its current owner, Sheldon Urlik, who generously loaned the guitar to GSI so it could be reunited with the other two Torres guitars of Tárrega, after over 100 years of separation! Words are simply inadequate in describing just how rich and harmonious the sound is.
---
Leave a Comment