Woonsun Lee has been drawn to the classical guitar his entire life. Even so, he still had his "Eureka" moment, which came to him in his teens when he heard Rodrigo's 'Concierto de Aranjuez' in concert by Japanese guitarist Kazuhito Yamashita. This experience led him to decide he would devote his life and energy to the guitar somehow.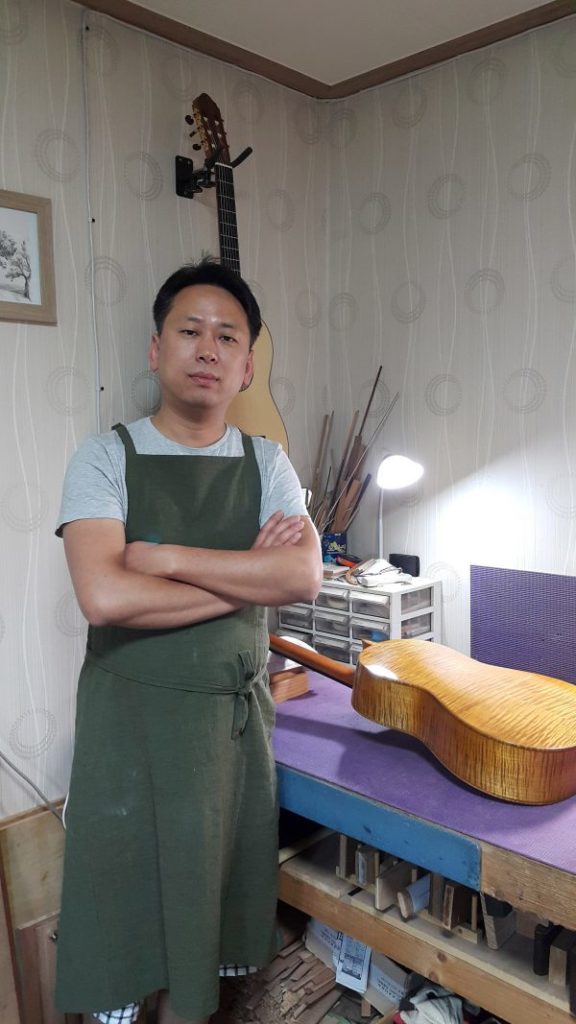 For years he was a student of the guitar, and studied with the best teachers in in his area. After years of exploration, personal setback and family advice, it became clear that his calling was as a luthier. He initially took up an apprenticeship in Paju, a city in Gyeonggi Province, South Korea where he built hundreds of student and concert guitars – oftentimes working 7 days a week, with only an average of 5 hours sleep per night. It was at this time that he studied the structures of the Torres and Bouchet models and allowed these influences to penetrate into his own work. He spent a good deal of time doing restoration work on historical instruments during this period, which also added to his expanding knowledge base. After many years of apprenticeship, he set up shop on his own, in 2009 as an independent guitar maker.
Woonsun's style is understated, yet elegant and perfectly executed. A look firstly at the carpentry reveals a worker who understands craftsmanship at a very intimate level. From a woodworking point of view, he builds flawlessly made instruments. Some interesting details include an origami-lotus motif in the central band of the rosette – all wood is "long grain" which gives the rosette more "sparkle" in various lighting settings. Also his subtle use of maple in the tie block, central head veneer strip and throughout the purfling frames the guitar beautifully. A very tasteful and unique look in each of his instruments.
Overall, a very exciting and promising young maker whose work we are thrilled to be representing exclusively in the US.