1864 Antonio de Torres SP/CSAR
| | |
| --- | --- |
| Year | 1864 |
| Top | Spruce |
| Back & Sides | CSA Rosewood |
| Scale Length | 646 mm |
| Nut width | 50.5 mm |
| Finish | French Polish |
| Country | Spain |
| Luthier | Antonio De Torres |
This guitar is no longer available in our inventory. If it interests you, click the "notify me when available button" to be notified in the event that we re-acquire this guitar for re-sale.
Description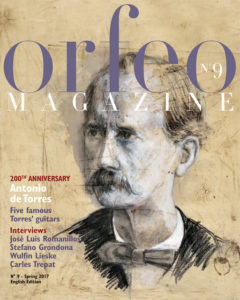 This guitar was built during what could arguably be called a high point in the artistic and creative output of Antonio de Torres. Indeed it was built the same year as Tarrega's favorite Torres (FE 17) which Emilio Pujol described as being the greatest guitar he had ever heard. Well, we wonder what Pujol would have thought had he also known this guitar, identified by Jose Romanillos as FE 21A - built during the so-called "first epoch" when Torres was still working in Seville. Although the guitar is 155 years old, it has only had two owners to date. The original family (from Almeria, Spain) who acquired it in 1864 sold it in 1993 with the help of Jose Romanillos, to the great Japanese guitarist Matsuda Akinobu who is well-known in Japan for performing on historical instruments like this. It is a great example of an instrument that rarely ever becomes available making this a great privilege for us to have, especially since it is such a well-preserved, fantastic-sounding masterpiece by one of the greatest guitar making geniuses of history.
The guitar is a marvelous and extremely rarified example of Torres' most representative work from this period. This is a full-sized Torres, nearly "modern" by today's standards in terms of measurements and proportions which incredibly, remain the blueprint for all guitar makers ever since, with little to no modification from this basic design. Condition of the guitar is excellent, particularly given that it was built over 150 years ago. Only a handful of nearly invisible cracks (none in the back, 2 in the top and a few in the sides) have been expertly and conservatively done, maintaining the original integrity of the instrument beautifully. Therefore, the guitar is in top, performance-ready condition. Sound is absolutely majestic. It has a huge voice with a velvety texture, rich in overtones yet retaining great clarity at the core of every note. Torres of course had great style and a keen eye for design - it is as beautiful in appearance as in sound, it has a 4-piece CSAR back, and a classic ringed rosette with central herringbone motif and "block" purflings which has since become one of the most copied rosettes in successive generations of guitar making. This is a breathtaking example of a well-preserved, elegantly built and simply gorgeous Torres. Highly desirable to the most discriminating collector or performer alike.
Orfeo Magazine #9 - The 200th Anniversary of Antonio de Torres
Videos
Guitars by Antonio De Torres