1867 Antonio de Torres SP/MP
| | |
| --- | --- |
| Year | 1867 |
| Top | Spruce |
| Back & Sides | Maple |
| Scale Length | 650 mm |
| Nut width | 52 mm |
| Finish | French Polish |
| Country | Spain |
| Luthier | Antonio De Torres |
This guitar is no longer available in our inventory. If it interests you, click the "notify me when available button" to be notified in the event that we re-acquire this guitar for re-sale.
Description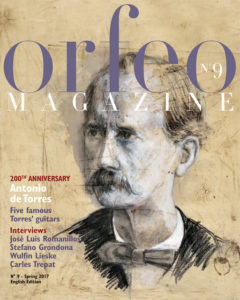 The name of Antonio de Torres (1817-1892) is to guitarists what the name of Antonio Stradivari is to violinists. Taken as a whole, the corpus of instruments made by this legendary maker's hand are today regarded as the foundational basis of the modern guitar. Most or nearly all, of Torres' structural and tonal improvements are still in use by all the top builders of the current generation. The impact these instruments made on successive generations of guitar makers is no less impressive – still to this day, the overwhelming influence of Torres and his work remains more pervasive in the guitar making community than ever before, thanks largely to the research efforts and masterclass training courses that have been Jose Romanillos' focus over the past two decades. In Torres' own day, the leading players such as Julian Arcas and Francisco Tarrega were already performing on his masterpieces, and successive generations of players over the 20th century continued to play them. Although increasing values on Torres over the past many decades has resulted in their placement largely within sphere of collectors, they are still highly desirable for many top concert players and occasionally make their way into the recording studio. Pepe Romero, Wulfin Lieske and Marc Teicholz, among others, have brought them to life in recorded sound and we all hope this trend continues in the future, especially as more Torres instruments come to the public's attention.
This particular instrument is an exquisite example of an incredibly well-preserved birds-eye maple guitar from the so-called "first-epoch" (c.1850-1870), cataloged as FE27B by Jose Romanilos. It bears a second label, indicating that it had some restoration work done on it in 1915 in the Manuel Ramirez workshop in Madrid, likely to repair some cracks, mainly on the back. Words are inadequate in describing just how rich and harmonious the sound is, how perfectly balanced the notes are when they blend together, and the sensation of playing the guitar as it vibrates against the players body. It is a tremendous experience which is only possible with an instrument such as this in ones hands. This experience is confirmed over and over again with every Torres (especially in this kind of very original condition) that comes through our shop, by all who see and hear.
For more information on the life of Antonio de Torres, be sure to read this short biography and this excerpt about the Torres sound from the Jose Romanillos book, Antonio de Torres. We also have an interview between Pepe Romero and Kenny Hill about the master luthier.
Orfeo Magazine #9 - The 200th Anniversary of Antonio de Torres
Videos
Guitars by Antonio De Torres