1887 Antonio de Torres SP/MH
| | |
| --- | --- |
| Year | 1887 |
| Top | Spruce |
| Back & Sides | Mahogany |
| Scale Length | 635 mm |
| Nut width | 50.5 mm |
| Finish | French Polish |
| Country | Spain |
| Luthier | Antonio De Torres |
This guitar is no longer available in our inventory. If it interests you, click the "notify me when available button" to be notified in the event that we re-acquire this guitar for re-sale.
Description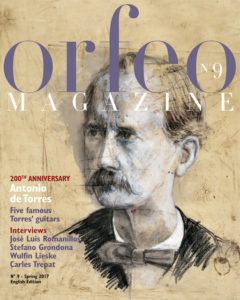 Built the year before Francisco Tarrega's favorite Torres guitar (SE 114), this guitar (SE 105) is one of the great masterpieces of Torres' output for its quality of sound, condition and historical importance. It's a medium-sized guitar, braced with 5 fans and a 635mm scale so very comfortable and easy to play – it was also re-fretted recently - the fresh setup makes it play with maximum ease. It has an amazing, full sound, very rich with great texture in every note, but also very clear. It has a sensitive dynamic range and color palette, so it's incredibly easy to separate melody lines from accompaniment and bass parts - the guitar is simply very friendly to the hands and almost plays by itself. When evaluating the sound of a guitar like this, it's difficult to tell where the genius of Torres ends; and the accumulated years of being played by great artists begins. This instrument is truly a marvel of guitar making history.
It is in extremely well-preserved condition. It did have some recent repair work done by Gabriele Lodi in Italy who, in our opinion is rapidly becoming one of the most experienced and expert repairmen in the world for Torres. There were some repairs to the sides which are now completely invisible, both inside and outside. The single small back crack does now have a mahogany patch internally to re-enforce it. The soundboard has no cracks and no repairs - making this perhaps the most well-preserved Torres we've seen in the 40 years that these instruments have been passing through our doors. Interestingly, there are a few knots in the grain in the back that have small cleats supporting them from the underside – but these were installed originally by Torres and are not a later addition – seems like Torres was concerned that these might develop into cracks, however after over 135 years, they've remained stable. Amazing foresight and yet another example of the genius of Torres! At some point in its past we believe it was converted from pegs to machines (the current machines are commonly seen on instruments made in Barcelona in the 1920s-1930s). Whoever did the conversion did a very authentic job, doing the squared ramps and proportions of the slots as if Torres did it himself. Overall this is a rare, beautiful and outstanding example of Torres at his best.
Videos
Guitars by Antonio De Torres