2022 Andrea Tacchi "Homage to the Spanish School" SP/CY
| | |
| --- | --- |
| Year | 2022 |
| Top | Spruce |
| Back & Sides | Cypress |
| Scale Length | 650 mm |
| Nut width | 52 mm |
| Finish | French Polish |
| Country | Italy |
| Luthier | Andrea Tacchi |
This guitar is no longer available in our inventory. If it interests you, click the "notify me when available button" to be notified in the event that we re-acquire this guitar for re-sale.
Description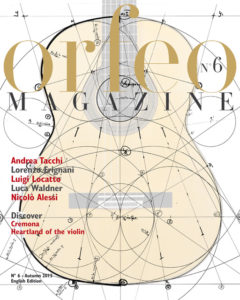 This is a special treat from Andrea Tacchi who was inspired to build for us a guitar he's calling his "Homage to the Spanish School", which really goes back to the origins of the modern guitar in the mid- to late-nineteenth century and especially during its golden age in the early decades of the twentieth, particularly in the work of the early Madrid school. The top workers from the famous Manuel Ramirez workshop including Santos Hernandez, Domingo Esteso and Enrique Garcia really were the ones to confirm and reproduce the essential elements of the Torres designs that had come just a generation before. So it is apt that Andrea chose to build this instrument along the more traditional lines as established by these foundational makers - the back and sides are cypress, of course a wood native to Spain that has produced some of the most magical instruments in history - including the famous "La Leona" (FE 04) of Torres and countless other masterpieces. A tip of the hat is also obvious with the Esteso-shaped headstock, and perhaps less obviously (but very importantly), his practice of doing almost all of the inlay work in the rosette and tie-block using the "long-grain" technique, far more difficult and time consuming than the more common and practical "end grain" technique where long, thin strips of wood are arranged in a pattern, glued together, then sliced up like a sausage, with complete mosaic exposing the "end grains" which appear a bit dull and less "shiny" than as the grain appears using the "long grain" technique which really gives the wood a chance to shine, reflect light in a brilliant and beautiful way. Andrea does blend in small amounts of end-grain inlay for structural purposes and also to contrast with the long-grain elements to provide a more visually attractive color palette but the majority of the inlay work here is the extra laborious long-grain. And the result is stunning, the instrument really does have an added visual depth and sparkle. Although Andrea has been doing this regularly for many years on his other models, we thought it was worth pausing here to point this out on this instrument since it really stands out on this simpler, less complex design.
Soundwise, this guitar is simply gorgeous. It has elements of the classic "Tacchi" sound - a great variety of timbral colors, polyphonic clarity, excellent volume, punchy attack, etc, but does have an earthy, "Spanish" quality to it that is unique to this guitar. Weighing in at 1400 grams, this is the lightest guitar Tacchi has made us to date by a considerable margin, and this allows for the Spanish qualities to present themselves - a dark, relaxed, very "open" lyrical and old-world sound lurks in every note thanks to this lightweight, all-solid build.
As with all Tacchi guitars, great attention is paid to ease of playability and relaxed, comfortable string tension. Even the saddle itself is a composite of bone and carbon fiber to transmit vibration as efficiently as possible - Andrea sees this juncture of "string to body" in much the same delicate way as a needle on a record player. Overall a very refined instrument that revisits and pays homage to the early Spanish school and its makers who continue to inspire generations of luthiers to this day. Very special guitar by any measure.
Videos