2008 Andrea Tacchi "Omaggio a Robert Bouchet" SP/CSAR
| | |
| --- | --- |
| Year | 2008 |
| Top | Spruce |
| Back & Sides | CSA Rosewood |
| Scale Length | 650 mm |
| Nut width | 52 mm |
| Finish | French Polish |
| Country | Italy |
| Luthier | Andrea Tacchi |
This guitar is no longer available in our inventory. If it interests you, click the "notify me when available button" to be notified in the event that we re-acquire this guitar for re-sale.
Description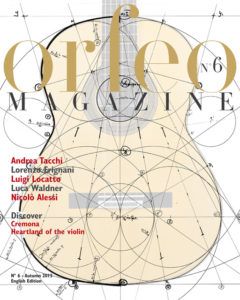 Tacchi builds a variety of models - several of his own (including his well-known Coclea/Thucea) as well as tributes to some historical builders. This guitar is an homage to Robert Bouchet, one of his former teachers. Tacchi built his first "Bouchet" model in 1994, following Bouchet's notes that were collected in the "Cahier d'Atelier" ("Workshop Notebook"), which was later published by the Conservatoire de Paris. Based on these notes and his personal experiences with Bouchet, Tacchi created what we'd call as a "personalized replica", which allows for some of Tacchi's own ideas in the design and production of sound. In 1998 Tacchi was invited to exhibit one of his Bouchet models in Shibuya, Tokyo at the celebration of the 100-year anniversary of Bouchet's birth. Concerning Bouchet, Tacchi has written: "He linked the 'gesture' with the material, a characteristic typical of sculptors, and one ought not to forget that Bouchet started out as both a painter and a sculptor."
This guitar has a big, full and thick quality of sound - very plump and wholesome. In the spirit of Bouchet it is also very responsive thanks in part to the light internal bracing and choice of spruce for the top - Tacchi is extremely selective with his materials, both in the intrinsic properties of the wood and how it's cut. It has a huge dynamic range and has an assertive quality of sound when played at any volume level. Condition-wise, it did have some minor damage in 2008 when it was first shipped out of Italy. Although the guitar was well-repaired here in the USA, Andrea never forgot the guitar (Andrea was very fond of it upon completion) and wanted the opportunity to re-visit the guitar himself. So when we re-acquired the guitar in 2020 we sent it to him and he was delighted to find that the guitar had its original character in full. Andrea delicately re-did the repairs and did some setup work by adding thickness to the fingerboard above the 12th fret, allowing for plenty of bone at the saddle with easy action for the player's left hand. Some finish touch-up has left the guitar in beautiful condition. It has a gorgeous aesthetic as well - the timeless shapes, curves and understated elegance of Bouchet comes together here under the artful hands of one of the great contemporary masters.
Orfeo Magazine article on Tacchi, Locatto and Frignani
Videos