2015 Gabriele Lodi "Contemporary" SP/CSAR
| | |
| --- | --- |
| Year | 2015 |
| Top | Spruce |
| Back & Sides | CSA Rosewood |
| Scale Length | 650 mm |
| Nut width | 52 mm |
| Finish | French Polish |
| Country | Italy |
| Luthier | Gabriele Lodi |
Description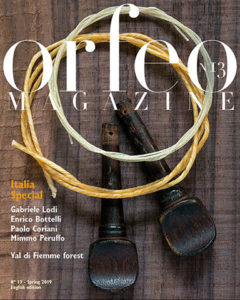 This is what Gabriele Lodi is calling his "Contemporary Model" - it is a tribute to the modern era of the guitar design, which began around the middle of the 20th century (with such makers as Hauser and Bouchet) with the introduction of nylon strings (replacing gut strings), which allowed for a new and more aggressive style of playing. This innovation gave players the extra needed strength of sound to be heard at acceptable volume levels in larger halls and theaters where the guitar had previously not been. These guitars also had a more solid build with greater mass and a more stable top, sometimes with transverse bar across the bridge. Body resonance from this period was usually around F# or G and there is noticeably bigger sound from the trebles. To read more of the historical background to this approach, please read this very informative article written by Gabriele.
For this particular guitar Gabriel's braced it using a combination of the Spanish 5-fan system combined with a transverse bar in the bridge position in line with the saddle to support the pressure of the strings. This is similar to Bouchet's placement, but the shape and dimensions of the bar are quite different (for the shape of this brace, Gabriele borrowed heavily from an instrument by Parisian master of the early 19th century, René LaCote). The result is very balanced trebles with consistent sustain, and the avoidance of any dull notes. This blend of Spanish and French traditions (fan bracing mixed with the added transverse bar) will suit the multiple needs of todays concert players, from Renaissance, Baroque and Romantic music, which were mostly played originally on instruments with transverse bars under the top, and for the music that followed in later periods, on fan strutted instruments. Easy action and comfortable playability round out this exceptional, world-class guitar.
Materials selected are striking, as is usual for this maker. He used some beautiful 35-year-old Italian spruce for the top and the best CSA rosewood possible for the back and sides. He makes his rosettes and purflings the old-fashioned way, using the same mosaic design for both. The center ring of the rosette is strongly inspired by Santos Hernandez' famous design with a custom element that appeals to Gabriele – the design is smaller on the treble side than on the bass side (notice the "bandwidth" gradually increases as you follow the pattern clockwise), in accordance with the size of the frequencies of those strings! Very unique and striking feature of this instrument. The tuners are handmade by Alessi. We at GSI are thrilled to be representing this great maker. Note - although Gabriele is a seasoned veteran of guitar making, he chose to start using his own label (instead of the standard family label) in 2013 and this is the tenth guitar in this series.
Photos of this guitar during construction and some background information on the model.